The Teaser
Okay. So prior to entering Mandalay Bay (where this show is an exclusive resident of) – We boarded the tram from the Luxor Hotel taking us directly to the Mandalay Bay Hotel. We were greeted with a tram car extravagantly decorated in 'MJ One' vinyl. All ready excited about the show – this piqued our excitement yet again.
We arrive at the hotel, and enter on the floor the show resides on. We pick up our tickets, and then go through the lobby. To our immediate right – the MJ Store. Take my advice – if you think you'll spend a lot of money, then you'll easily spend double that amount. Even the casual fan will come out feeling a lot lighter in terms of pocket change. The store has many exclusive items, and a lot of other items already commercially available.
Having already visited the MJ Store, we gathered toward the opening doors. The doors which take you through to the lobby – they're ornately decorated in gold leaf – very regal and fit for a king. The ushers greet you as they ask for tickets, and are dressed from top to bottom in black, with gold embroidery throughout – topped off and completed with a black fedora.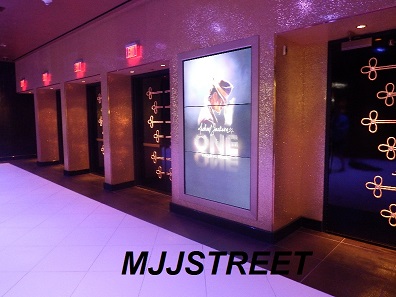 The whole experience thus far is very impressive, and nothing like I have ever experienced before – despite going to a good number of shows.
Okay – so our tickets have been scanned, we've entered the lobby. We're immediately surrounded by.. paparazzo? Taking our photos – being extremely energetic in the fact that they -must- get our photo, and already this appears to be a circus – much like the life that our dear King of Pop was more often than not surrounded in. Although this sounds a tad extreme – it was done in a very tasteful way – much unlike I'm sure Michael was ever subjected to back in his day.
The walls were covered with wallpaper featuring a collage of classic and well known song titles – again, gold and very 'royal' feeling.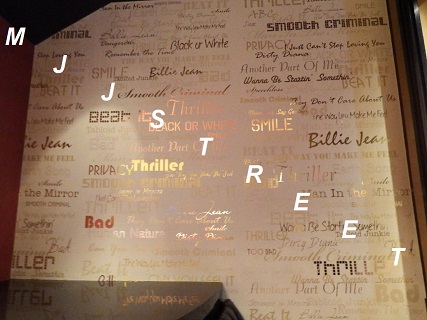 The walls also featured two silhouette motifs – one on each opposite side of the concession counter. The concession counter featured several speciality cocktails all having a general MJ theme. Some of those include;
'The One' – Grey Goose L'Orange Vodka, Grand Marnier, Passion Fruit Puree, Fresh Orange Juice
Never Enough – Absolut Mango Vodka, Fresh Lime Juice, Agave Nectar, Sierra Mist
Zombie! – Bacardi Wolf Berry Rum, Cointreau, Fresh Sweet & Sour, Orange Juice
Moon Walk – Herradura Silver Tequila, Lemonade, Pomegranate Juice
Pop Royalty – Crown Royal Maple Whisky, Disaronno, Fresh Sweet & Sour
Off The Charts – Absolut Orient Apple, Funkin Green Apple Puree, Red Bull Silver
Showtime!
Okay, we enter the theatre – surrounded on the walls are 'fake' tabloids, featuring none other than the guests who had their photos taken by the paparazzo on the way in through the lobby. Their faces plastered on a fictional daily 'rag' with an absurd tabloid style headline beneath or above – again, keeping in theme with the circus. The edge and mantle of the stage decorated in a Dangerous album themed motif. We take our seats, and beckoning through the theatre is a slowed tempo mix of Privacy. It cuts deep, and the hard hitting lyrics resonate through the crowd of casual and hard-core excited fans.
As you know – Michael loved to tell a story in his art – Beit with lyrics, or through his short films. Cirque have definitely gone to some lengths to keep the same premise on 'One'. So, already there are 3 kids getting chased up and down the theatre by paparazzo, seemingly doing a very bad job at getting away from the clutches of 'evil'. This sets the stage for what is to become an all-round story of these 3 kids discovering Michael's world through an abundance of 'art' left behind.
'Ladies and Gentleman – Michael Jackson One – By Cirque Du Soleil' – 'Don't Touch.. The Glove'
Starting with a very haunting laugh of Michael, the mix of audio builds up – and literally implodes into a vast mix of Michael's popular hits – accompanied by stunning visuals on screens surrounding the theatre. The set list goes through around 30 tracks all in all – with a hefty mix of classic Cirque and an even bigger dose of 'Michael Jackson'. My favourite part? Dangerous/Dirty Diana. An exotic dancer clambers a pole and seductively dances to the gritty bass of Dirty Diana. The temperature rises, and for sure keeps the attention of the audience for the remainder of the performance.
You Thirsty For More?
I'm personally new into the Cirque World – but thoroughly enjoyed their craft and talent throughout the show – Through this experience, should another show catch my eye that involves Cirque through any means – I will definitely give it a go! As for MJ One – It's off the wall. From the whole experience, right down to the finer details – It's a must see. The costumes are second to none – and by far the best asset of the show in my opinion is the audio and visuals. If you're a diehard fan like myself, even if you're interested in Michael Jackson as an artist? You will not come away disappointed. Prepare to save up those pounds, euros, dollars or whichever currency you use again for another visit. MJ One will leave you thirsty for more!
On exiting the show – we were confronted with once again, a huge wall covered in Michael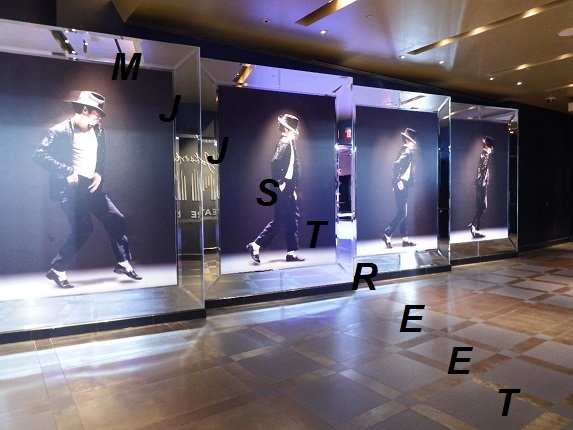 Around the MJ Store, there are little Michael Jackson treasures, preserved for your enjoyment. Those include, Shoes worn by Michael – including he's Swarovski Crystal Socks and another display with various tickets, show memorabilia and handwritten notes.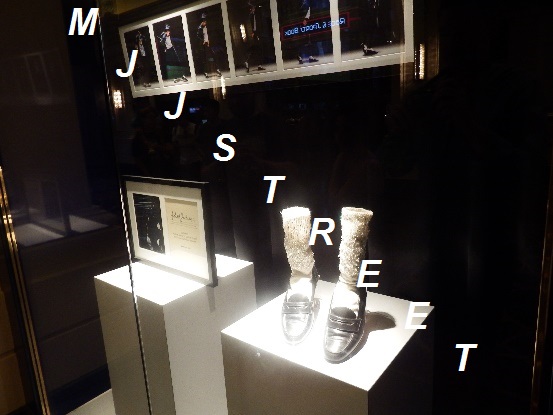 Written by Greg Spinks